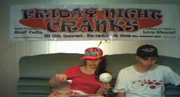 Post Date: June 21, 2009
Target: World of Warcraft Tech Support
Characters: Jim Colensworth and Michelle Colensworth
Length: 20:42
Jared calls as Jim saying that his daughter plays a lot of World of Warcraft and she is saying rape a lot. He asks the man to explain the difference between rape in the game and rape in real life.
Yes, they're virtually molesting you and do they molest you first and then rape you or just flat out rape you? -Jared
I need to get my swin trunks and my flippy flops! - Kristin
In the real world, if you're on a boat and a guy pulls out a wand, he's either a magician, or he's going to rape you. - Jared
Molesting, think of Michael Jackson. - Jared
Don't say rape! You are now saying Whipped cream! And instead of Molest, you're saying lawn mower! - Jared
Ad blocker interference detected!
Wikia is a free-to-use site that makes money from advertising. We have a modified experience for viewers using ad blockers

Wikia is not accessible if you've made further modifications. Remove the custom ad blocker rule(s) and the page will load as expected.