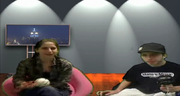 Post Date: December 5, 2009
Target: Dominos
Characters: Jared
Length: 6:06
Kristin and Jared call Dominos asking for Jared. Then, Jared comes on at the end and says he's Jared and asks if his friends have called looking for him.
HE'S NOT HERE! -Dominos Guy
Excuse me! Please don't raise your voice to me! I'm not an igloo! - Jared
God Damnit sir, where is Jared? - Jared
He is a short, italian, beast! - Jared
Ad blocker interference detected!
Wikia is a free-to-use site that makes money from advertising. We have a modified experience for viewers using ad blockers

Wikia is not accessible if you've made further modifications. Remove the custom ad blocker rule(s) and the page will load as expected.