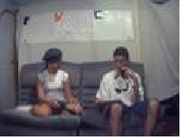 Post Date: July 23rd, 2007
Speakers: Jared
Target: Trends
Characters: Jim Colensworth
Length: 7:41
Jared pretends to be a guy from MTV. He calls Trends from "I Love New York and tells him they want to give him his own reality show. First, he pitches that Trends be a gay guy in the closet, then he suggests that he be at the hight of a drug addiction while teaching kids to not do drugs. Then he suggests it's called Trends in a Dress and it's about him going to bars dressed as a girl. He still wants to do it.
She actually thought after your performance on Love New York that you were gay. - Jared
So it's going to be me in a dress like a drag or something? - Trends
Alright, what we were going to do was spell it out like Trentson, which will be the street that you live on, you know, your hood if you will. So then it will be Trentson Address, but the way people will sound it out it will be Trends in a Dress. - Jared
Ad blocker interference detected!
Wikia is a free-to-use site that makes money from advertising. We have a modified experience for viewers using ad blockers

Wikia is not accessible if you've made further modifications. Remove the custom ad blocker rule(s) and the page will load as expected.