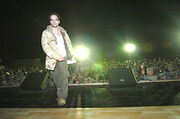 Stu Stone is a guest host who sometimes appears on the live show and some calls uploaded to youtube. He also started a band in 2001 called "The Stone Movement." His film career started in 1984 by playing Joel Blair in Heavenly Bones. He also voiced Ralphie in The Magic School Bus. He was born in Ontario, Canada in 1981.
Characters
Edit
He usually apears in calls as either a young kid (Ralphie Panzzzanooo) or an adult. Either way most calls featuring him and in a lot of cursing and abuse.
Ad blocker interference detected!
Wikia is a free-to-use site that makes money from advertising. We have a modified experience for viewers using ad blockers

Wikia is not accessible if you've made further modifications. Remove the custom ad blocker rule(s) and the page will load as expected.