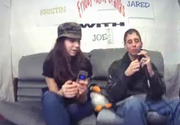 Post Date: February 22, 2008
Speakers: Jared
Target: Stop & Shop
Characters:
Length: 6:44
Jared prank calls Stop & Shop. He says that when he was checking out two hours ago, he found a live cat in his bag. He says he's allergic and his wife doesn't want it. At the end, they tell him he's on Friday Night Cranks.
A meow cat? - Stop & Shop Worker
What other sounds do cats make? - Jared
Yes there was a cat...a furry animal cat. - Jared
Let's think about this logically. Maybe there was a cat in your store that crawled into the bag. - Jared
I took it home and my wife said get that cat out of my house and I said technically it's not in the house yet and she said don't be a smart ass, and she closed the door. - Jared
You cannot throw out a cat! - Jared
Ad blocker interference detected!
Wikia is a free-to-use site that makes money from advertising. We have a modified experience for viewers using ad blockers

Wikia is not accessible if you've made further modifications. Remove the custom ad blocker rule(s) and the page will load as expected.