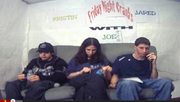 Post Date: June 27, 2009
Speakers: Jared
Target: Lazer Tag Place
Characters:
Length: 12:47
Jared calls a Lazer tag place and says that while his son was playing lazer tag, he got hit by the side of a gun and won't wake up.
Well when I picked him up he seemed fine, just a little loopy, like he was giggling, poking me, and twisting my nipples a lot. - Jared
Why would I want to talk to a rabbit? I'm not Alice in Wonderland. - Jared
If that happens I'm probably going to go ape shit. - Jared
Ad blocker interference detected!
Wikia is a free-to-use site that makes money from advertising. We have a modified experience for viewers using ad blockers

Wikia is not accessible if you've made further modifications. Remove the custom ad blocker rule(s) and the page will load as expected.