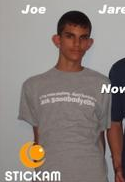 Joe Cioffi was the camera guy for Friday Night Cranks. Like the rest of his family, he too is musically talented. Joe left the show in December 2010 to focus on school and his music career. He is Kristin's older brother and Jared's younger cousin. He also has two "ramp sisters" (his mother's boyfriend's two kids) named Brianna and Sammy. Joe is in college.
Ad blocker interference detected!
Wikia is a free-to-use site that makes money from advertising. We have a modified experience for viewers using ad blockers

Wikia is not accessible if you've made further modifications. Remove the custom ad blocker rule(s) and the page will load as expected.