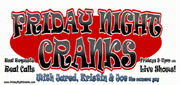 Post Date: September 19, 2009
Speakers: Jared
Target: Gay Helpline
Characters: Branden
Length: 12:49
Jared calls as Branden and says he just told his parents he was gay and they weren't happy. He tries to ask the Helpline guy out. Then he gets hit by a car and Jared talks as the guy who he hit with a car.
My spectrum is totally gay. - Helpline Guy
I remember I was ten around there, and I was hanging out with this girl and it was when, you know, I was ten, so I didn't really know what sex was and my mom came in and she was like you guys better not be having sex and I was like Mom we're coloring and she said Dammit Branden and just stormed out. - Jared
You sound completely adorable, but you're 18 and I'm way older. - Gay Helpline Guy
Fuck a car! - Jared
Ad blocker interference detected!
Wikia is a free-to-use site that makes money from advertising. We have a modified experience for viewers using ad blockers

Wikia is not accessible if you've made further modifications. Remove the custom ad blocker rule(s) and the page will load as expected.