Description
Edit
Candiiey is played by
Kristin
. She is a sassy and outgoing 17 year old and is usually in calls with teenage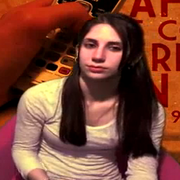 stupidity. She is not in very many prank calls. Occaisonally she will not be a teenager and instead she will be an adult, married 6 years to her husband, Ian, played by
Stu Stone
. She will also have a brother, Glen, sometimes, who doesn't get along with Ian. On very few occaisons, she is nearly blind and relys on her imagination to "see."
(Some) Appearances:
Edit
Flooded Basement Prank Call
"No problem, Fat Kid Baby Seat"
Ad blocker interference detected!
Wikia is a free-to-use site that makes money from advertising. We have a modified experience for viewers using ad blockers

Wikia is not accessible if you've made further modifications. Remove the custom ad blocker rule(s) and the page will load as expected.