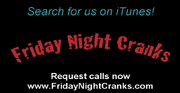 Post Date: July 14, 2008
Speakers: Jared
Target: Locksmith
Characters: Jim
Length: 8:19
Jared calls the locksmith saying that he was playing hide and seek with his son, and now his son is locked in the gun safe. He says he has been in there for a long time among many guns.
We were playing hide and seek and all of a sudden he said I'm going to lock myself in the gun safe! - Jared
I'm kind of concerned. He could possibly hurt my gun safe. I mean, if that gun goes off and hits the gun safe I'm going to be so pissed. - Jared
J...I as in intercourse...M as in mouse. - Jared
Ad blocker interference detected!
Wikia is a free-to-use site that makes money from advertising. We have a modified experience for viewers using ad blockers

Wikia is not accessible if you've made further modifications. Remove the custom ad blocker rule(s) and the page will load as expected.